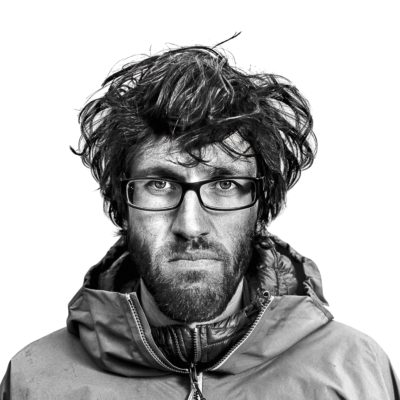 Hansjörg.
Born in 1984. Certified teacher for Mathematics and Sports. Mountain Guide.
Climbed my first summit of a 3000m peak by fair means in 1990. I know how it feels to wear climbing shoes since 1996. Started my carreer as a professional climber in 2009, when I quit teaching kids at secondary school. Received the Paul Preuss prize in 2016.
Author of »Südwand«. [more info]
 Highlights.
Free Solo Tempi Moderni (6c/ 800 m), Fish (7b+/ 850 m), Locker vom Hocker (7a/ 350 m), Bayrischer Traum (7a/ 400 m) and Mephisto (6c+/400m), Dolomites Crossover (3 big walls | 2 flights | 1 day | no rope) in 2016
First Ascent of Bruderliebe (8b/800m) and the First Free Ascent of L'ultimo dei Paracadutisti (8b+/ 650 m) on Marmolada Southwestface
First Ascent of Kunyang Chhish East (7400 m) via the 2700 m high Southwestface.
First Ascent of Gimmigela East (7005m) Northface.
Solo Ascent of Lupghar Sar West (7157m).
Innerer Hahlkogel Northface
Kaunergrat - Winter Traverse
The loss of the Demantoid
Annapurna III - Unclimbed
ICE LIKE SUGAR - MT. REAPER
Kunyang Chhish East - Piolet d'Or
FISH FREE SOLO - INTERVIEW 08
A close call, a serious decision to be taken within a few seconds. The experience you get out of it is exactly what all is about. Intense feelings. I'm not the guy who would be happy by going a step back. Life is too short to miss it out and the thirst for living the moment and the great unknown is always strong for me. But cutting edge alpinism means taking risk. I try to work situation sorin benefits to make it reasonable.
I share two different lectures for public audience.
Furthermore I also offer GLIMPSE, a keynote speech for a smaller and private audience.
Get in touch: info@hansjoerg-auer.at
 Ganz Normal.
Free Solo Climbing in the Alps, beyond the limits on Masherbrum Northeastface (7821m), the first ascent of Kunyang Chhish East (7400m) in the Karakorum Mountains, the days on Nilgiri South Southface (6839m) in the Himalayas and what the summit of Gimmigela East (7005m) changed. 
Hansjörg will talk about his passion Free Solo Climbing and will take the viewer on a journey from the wintry peaks and towers of the Alps to the mountains of Nepal and Pakistan. The first ascent of Kunyang Chhish East (7400m) in the Karakorum Mountains via the 2700m high Southwestface is one of the highlights of his career. But he will also talk about his darkest moment so far which he had to experience on Nilgiri South in fall 2015. Vivid memories can trigger strong emotions.
 Book Presentation »Südwand«.
On 29 April 2007, Hansjörg Auer set off alone into the Dolomites. Only his parents and one of his brothers knew what he intended to do that day: to climb the 1,200-metre-long 'Fish Route' up the south face of the Marmolada – free solo, without a rope. Other climbers watched him do it, and overnight Auer shot to climbing stardom. Here he speaks candidly about his sudden fame and his path to becoming a professional mountaineer, as well as the sacrifices he's made and the pressures of the media. He talks about his childhood on a farm, about overcoming anorexia and getting back on his feet after injuries, about what it means to lose a friend while climbing, about turning back just before reaching his goals, and about scandalising the public with his opinions. This is a wise book about common sense and passion in mountaineering, and about the art of the natural line.
[more info]
(Until now the book is published in German language only)